OKLAHOMA CITY — Cheers and excitement filled the Devon Lawn at Myriad Gardens during an all-employee tailgate. The fanfare came on the heels of a transformative announcement: Devon is bringing together the state's two largest universities to help instill a lifelong love of science, technology, engineering and math (STEM) in young sports fans.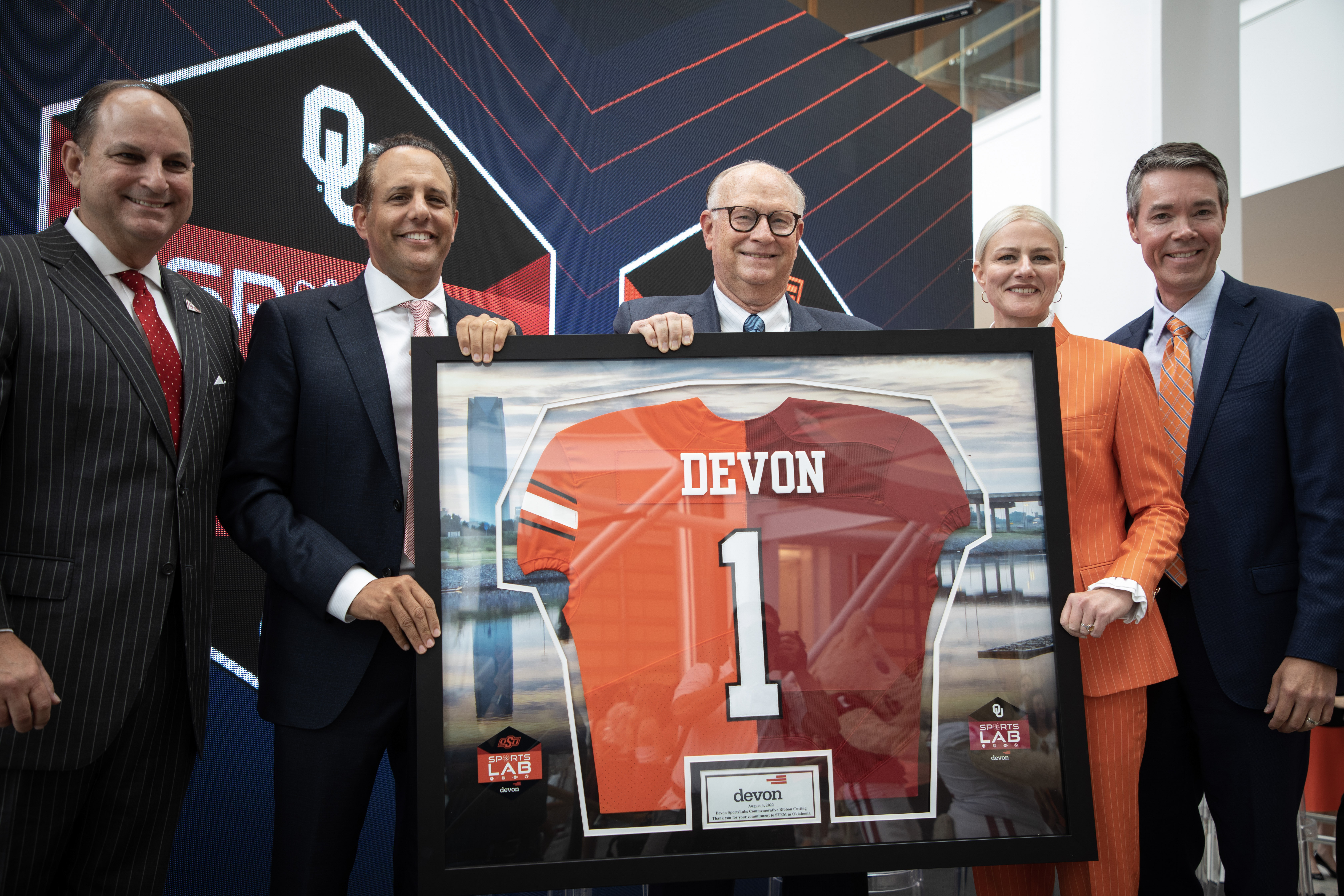 Devon, the University of Oklahoma (OU) and Oklahoma State University (OSU) are partnering on a multi-pronged five-year project called SportsLabs. Pre-game mini SportsLabs will be held at fan fests during football, basketball and other select sports on each campus. Half-day educational workshops will take place post-season for many OU and OSU sport seasons like baseball, basketball, football, gymnastics and softball. Additionally, SportsLabs will travel to Oklahoma communities throughout the year to expose even more students to the science behind their favorite sports.
"STEM is important for people in all sorts of careers, whether they're scientists or engineers or athletes," said Rick Muncrief, president and CEO of Devon. "Many children across Oklahoma love sports and look up to OSU and OU athletes, but they have little understanding about the science behind sports. This ground-breaking partnership with our state's top universities is intended to foster a love of STEM in all kids, even if they prefer to pick up a football over a calculator."
Facilitated by Engage Learning, the SportsLabs experience uses athletics to enhance comprehension of scientific concepts like physics and velocity. Students are empowered to improve their performance by better understanding the science behind sports. Almost all instruction is active, meaning students' participation is key to their learning experience.
Notably, an exciting aspect of SportsLabs is the involvement from OSU and OU student-athletes, who will help run the learning exercises and drills.
Kayse Shrum, OSU president, said making the connection between sports and science for students is critical to sparking an interest in STEM careers.
"I went to college on a softball scholarship, and a professor helped me see the opportunities of medical school, so I understand the power of combining sports and science," Shrum said. "When we bring the two together, more children will understand the games and activities they love can lead them into exciting careers, even if they never play competitive sports. Thanks to Devon's leadership, this bold vision will be a winning play for all Oklahomans."
OU President Joseph Harroz Jr. said despite the Bedlam rivalry, the two universities are aligned in helping educate the next generation of skilled workers.
"OU and OSU might compete in athletics, but when it comes to supporting Oklahoma's workforce needs, our universities share a common goal," said Harroz. "Producing more engineers, health professionals and other highly skilled workers is incredibly important for our state's future. The best way to inspire the leaders of tomorrow is to show young students how science and math affect everything they do, including athletics. The SportsLabs experience will do just that, and we thank Devon for implementing a winning game plan that will help move Oklahoma forward."
OSU Athletic Director Chad Weiberg said student-athletes' participation will lead to a deeper connection with young people and further cement the intersection of science and sports.
"We know young sports fans look up to their favorite college athletes and strive to emulate their pathways to success," Weiberg said. "Young sports fans get to see their role models on the field, court or track as athletes, but rarely get to see or hear about them as students. By Devon involving our student-athletes like this, children of all ages can see their role models not only studying science or math but using science and math in real-world applications that can help them improve their athletic skills."
Joe Castiglione, OU Athletic Director, said this innovative partnership offers a unique opportunity for the next generation of Oklahoma leaders.
"OU Athletics and our student-athletes are thrilled to have the opportunity to inspire the next generation of Oklahoma leaders through this extraordinary and innovative program led by Devon Energy," Castiglione said. "Devon has been a tremendous partner for many years, so to be able to engage with our communities through the SportsLabs experience, along with OSU, is exciting for the state of Oklahoma and our future. We are thankful to Devon for being a frontrunner in this space for our state."
For more information, visit SoonerSports.com/SportsLab, OKState.com/SportsLab and EngageLearning.org. The relationship with Devon and the universities is overseen by Learfield, athletics multimedia rightsholder, through its respective Sooner Sports Properties and Cowboy Sports Properties teams.