GRAND FORKS, N.D. – University of North Dakota Athletics and Learfield's UND Sports Properties announced today a five-year extension with iHeartMedia Grand Forks to continue broadcasting UND Athletics events on-air. Fighting Hawks fans in the Grand Forks market will be able to continue listening to and supporting their favorite team on iHeartMedia's 96.1 The Fox, 100.3 Cat Country and 1440 The FAN.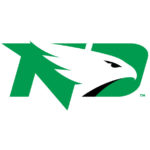 "iHeartMedia Grand Forks is excited to continue our relationship as broadcast partners with the University of North Dakota Athletics Department and Learfield," said Jennifer Stocker, Market President for iHeartMedia Grand Forks. "We look forward to working with UND and Learfield over the next five years offering the very best athletic programming. Go Fighting Hawks!"
Through the 2021-22 academic year, the radio flagship for Grand Forks will carry all regular-season and post-season men's hockey, football and men's and women's basketball games. Additionally, iHeartMedia will carry select softball and women's volleyball games, as well as all 27 broadcasts of the UND Ground Round Coaches' Show, which features certain coaches representing UND Athletics varying by season and teams showcased. Other scheduled Fighting Hawks' programming includes the UND Sports Today daily show providing fans a brief update on all campus sports.
"UND Athletics is pleased to extend our relationship with iHeartMedia locally in Grand Forks for another five years," said UND Athletics Director Brian Faison. "The residents of Grand Forks and the surrounding region are fortunate to have many quality radio options to choose from. A competitive bid process was completed and ended in a place our fans will continue to find our games, promotions and other programing on the iHeartMedia stations. UND has enjoyed a lengthy partnership with iHeartMedia and we're excited that the relationship will continue into the future."
About iHeartMedia Grand Forks
iHeartMedia Grand Forks owns and operates KKXL-FM, KKXL-AM, KSNR-FM, KQHT-FM, KJKJ-FM, and is part of iHeartMedia. With over a quarter of a billion monthly listeners in the U.S. and over 85 million social followers, iHeartMedia has the largest national reach of any radio or television outlet in America. As the leader in multiplatform connections, it also serves over 150 local markets through 858 owned radio stations, and the company's radio stations and content can be heard on AM/FM, HD digital radio, satellite radio, on the Internet at iHeartRadio.com and on the company's radio station websites, on the iHeartRadio mobile app, in enhanced auto dashes, on tablets, wearables and smartphones, and on gaming consoles.
iHeartRadio, iHeartMedia's digital radio platform, is the fastest growing digital audio service in the U.S. and offers users thousands of live radio stations, personalized custom artist stations created by just one song or seed artist and the top podcasts and personalities. With over a billion downloads, iHeartRadio reached 100 million registered users faster than any other radio or digital music service.
iHeartMedia's platforms include radio broadcasting, online, mobile, digital and social media, podcasts, personalities and influencers, live concerts and events, syndication, music research services and independent media representation. iHeartMedia is a division of iHeartMedia, Inc. (PINK: IHRT). Visit iHeartMedia.com for more company information.
About UND Athletics
The University of North Dakota won Big Sky Conference championships in football, volleyball, men's basketball and women's basketball during the 2016-2017 season. It was the first time in the history of the Big Sky Conference that combination of championships was won by the same institution. Also, in 2016-17, the men's hockey program appeared in the NCAA Tournament for the 15th consecutive season, the second-longest streak in college hockey history.
The University of North Dakota is one of nearly 125 collegiate institutions, conferences and arenas represented by Learfield. The company's rich history includes over four decades of developing trusted, long-term relationships with some of the most revered institutions and associations in the world of college sports. Additionally, it titles the Learfield Directors' Cup and offers its partners professional concessions and ticket sales; branding, licensing and trademark consulting; digital and social platform expertise; campus-wide business and sponsorship development.