Townsquare Media Northern Colorado, KARS 102.9 FM, new flagship for CSU Athletics
FORT COLLINS, Colo.— Colorado State University and its athletics multimedia rights holder, Learfield's Rams Sports Properties, have agreed to a new three-year partnership between KARS 102.9 FM and Townsquare Media Northern Colorado for KARS 102.9 FM to serve as the flagship station for live broadcasts of Rams football, men's basketball and women's basketball games.
Additionally, KARS "Rock 102.9" will carry all live weekly football coach's shows during the fall, and basketball coaches' shows during the winter.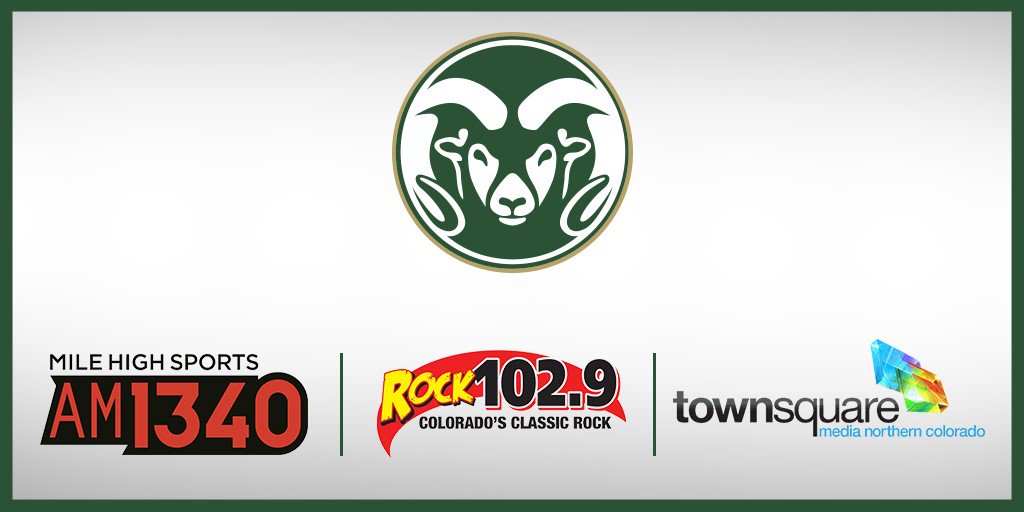 Denver-based Mile High Sports will carry football, men's basketball and select women's basketball games on KDCO 1340 AM for the next three years.
"We're excited to be partnering with KARS 102.9 FM and Townsquare Media Northern Colorado and Mile High Sports to deliver our game broadcasts to our fans along the Front Range and across the state of Colorado," said CSU Athletics Director Joe Parker. "Quality programming of our athletics events is key to sharing the CSU Athletics experience, and I'm encouraged to have two trusted stations providing our game broadcasts and broadening our engagement."
The first Colorado State game to air on 102.9 FM and 1340 AM will be the annual Green and Gold Spring Football Game on Saturday, April 23. Broadcast coverage will begin at 12:45 p.m. with a 15-minute pregame show before the 1 p.m. kickoff.
Should a CSU athletics event conflict with another CSU athletics event, the conflicting broadcast will air on Townsquare's station KMAX 94.3 FM.
"Townsquare Media in Northern Colorado is excited to be teaming up with Rock 102.9 to be the flagship station for Colorado State University Athletics," said Townsquare Media Northern Colorado Market President Pat Kelley. "We look forward to a long and mutually beneficial partnership with the good folks at Learfield's Rams Sports Properties. Go Rams!"
"As Mile High Sports Radio approaches its 10th year on air, we're thrilled that this multi-year agreement to carry two of the marquee college programs on the Front Range will stretch into our second decade of providing Denver with live and local sports talk and play-by-play," said Mile High Sports General Manager Casey Light. "CSU football and basketball each has a rich tradition we're proud to now be a part of as a broadcast partner."
Rams football will kick off the regular season on the Rams Radio Network on Friday, Sept. 2, 2016, when the Rams face Colorado in the Rocky Mountain Showdown in Denver. The Rams have played in a bowl game in three consecutive seasons. The men's basketball team has won more games in the past four seasons than in any four-year stretch in program history and the women's basketball team played in the NCAA tournament in 2016 after winning its third consecutive Mountain West title.
Football broadcasts will include a two-hour pre-game show and a one-hour postgame show, featuring interviews with head coach Mike Bobo and players live from the locker room.
Basketball coverage will include 30-minute pregame and postgame shows.  Men's head coach Larry Eustachy and women's head coach Ryun Williams will be featured before and after every game, as well as interviews with Rams players.
All live broadcasts of games and coaches' shows will be available via livestream on CSURAMS.com.
An industry leader for more than four decades, Learfield has a deep presence in the college athletics landscape nationwide. It manages the multimedia and sponsorship rights for more than 120 collegiate institutions, conferences and arenas, and supports athletic departments at all competitive levels as title sponsor of the prestigious Learfield Directors' Cup. Learfield also provides its collegiate partners access to professional concessions and ticket sales; licensing and trademark consulting; digital platform expertise; and venue and technology systems through its affiliated companies. For more about Learfield's history, businesses and career opportunities, visit www.learfieldsports.com.